ASMS 2017 ultraFAIMS posters
Published on 13 Jun 17
In case you missed our posters at this years ASMS meeting in Indianapolis, or you just want a copy, we've provided copies here to download and keep.
Breath Analysis with Thermal Desorption-Field Asymmetric Ion Mobility Spectrometry-Mass Spectrometry: A Rapid and Non-Invasive Means of Screening for Pulmonary-Related Diseases
Alasdair Edge, Kayleigh Arthur, Lauren Brown, Robert Smith, Owlstone Medical Ltd.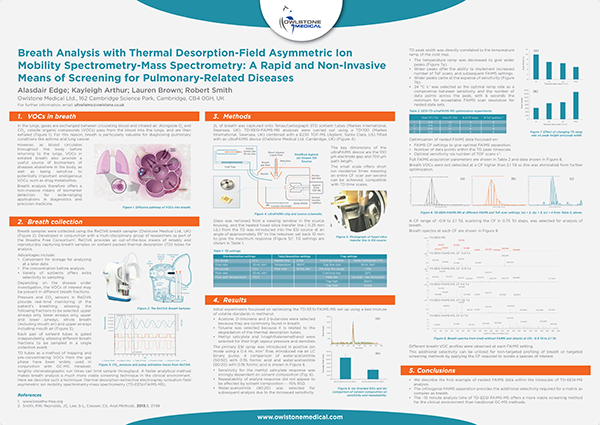 The development of an LC-FAIMS-MS metabolomics workflow: a new tool for untargeted metabolite profiling to diagnose disease
Lauren Brown, Kayleigh Arthur, Alasdair Edge, Aditya Malkar and Paul Nasca, Owlstone Medical Ltd.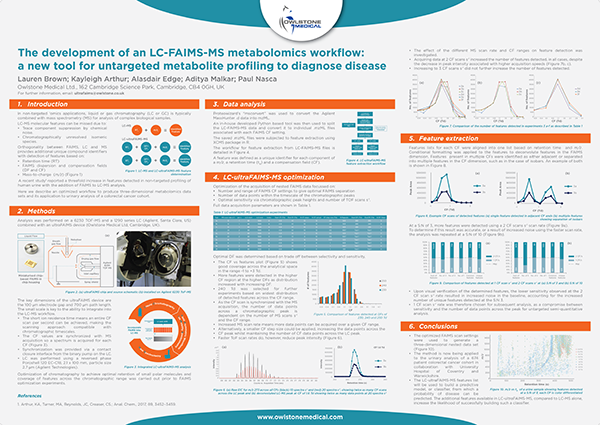 To check whether we are attending future conferences, please take a look at our events page . If you would like more information about ultraFAIMS or ReCIVA, please get in touch .
ultraFAIMS
Add ion mobility to existing mass spectrometers to provide in-source separation of ions
Retrofit to Thermo Scientific, Agilent, Waters and Bruker instruments